Profound Microfarms was conceived out of a desire to share a passion for fresh and local produce, and truly sustainable agricultural practices while making a difference in our community. We are a family farm located in Lucas, Texas driven by a passion to provide the absolute highest quality, best tasting lettuces, herbs and microgreens. We spent over four years researching, experimenting, learning and consulting the world's top experts in fields of Sustainable Agriculture and Aquaponics. Profound Microfarms is making a positive impact on the world by sharing nutrient dense foods, raising awareness about the environmental impact of our current food system and teaching children to learn about food and where it comes from. #Growgardeners
"The essence of profound insight is simplicity."— JM Collins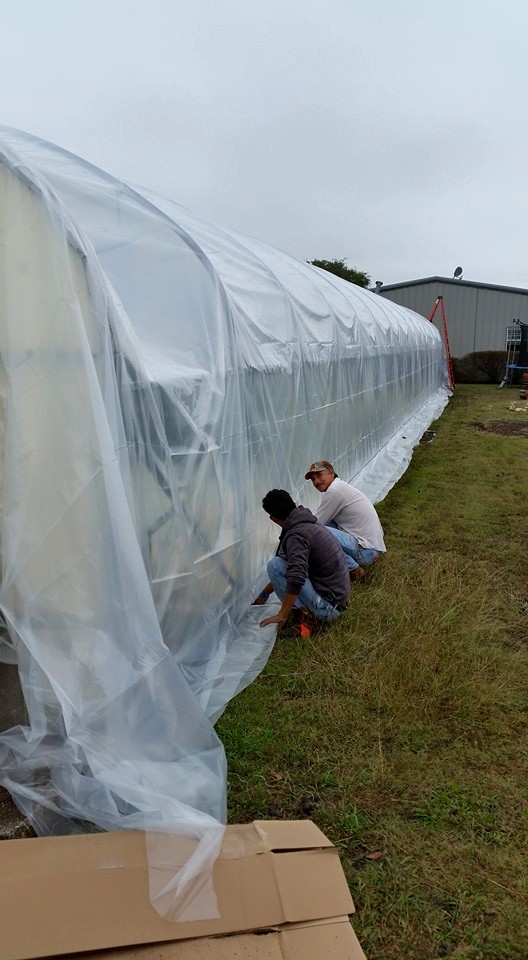 Our Team
Founders Jeff & Lee Bednar have very different backgrounds. Jeff was born in Minnesota and moved to the lone star state at 15. He was born with a genetic disorder called 'Marfan's Syndrome,' this led to half a dozen surgeries before age 25 and chronic pain throughout his life. It took him until the birth of his 1st daughter to realize he'd considered himself helpless when it came to managing his health and he had to make some changes. Jeff saw a dramatic impact on his health and well-being by simply removing junk food, sodas and energy drinks and with his new found energy levels and focus he had time to really start questioning what was in his family's food. That line of questioning led to even more questions, like "how far away did this get trucked from, or what country is this from? and what agriculture practices they were supporting with every purchase at the grocery?"
Lee has always been an amazing cook with a passion for creativity and variety having been raised in South Africa and Israel. She moved to the states in 2000 and was dismayed at the American diet and variety of speciality foods available at the grocer. Coming from a heritage of resourceful and self-sufficient people she had always had gardens, and luckily for Jeff, she has a very green thumb. Lee is also extremely talented at supply chain processes, project management, leadership and employee development. She is looking forward to developing and implementing programs that make a difference in children, that inspire them to learn about how food grows.
Jeff and Lee are very fortunate to have an amazingly supportive community. Many of whom have spent untold numbers of hours helping, sweating, advising and playing with the Bednar's on the farm. Just a few of the people who we'd like to acknowledge are Jay Lamb (aka Aquaponics Jay). Jeff met Jay at his "Intro to Aquaponics" class held in Jay's backyard in Carrollton. Jay has been instrumental from system design and layout to hard labor in the 108 degree Texas sun. The Steelsmith's, Cranfills, Schnetzinger's, are amonst many others that have lent many a helping hand. And of course the support of Jeff's immediate family that lives mostly within 5 miles of the farm.
Check out our "Event's" calendar to register to come help out on one of our workdays.
"Why do farmers farm? Love. They must do it for love."— Wendell Berry
Aquaponics Farming
Starting by asking the question; Where does this food come from? How far away did it come from? What chemical fertilizers, herbicides, fungicides, and pesticides were sprayed on this? If it's meat, how were the animals treated? How do you really know?
You meet and get to know your local farmer or you grow your own.
Well, Jeffrey likes to build stuff and he didn't know any farmers, so… He started with a couple raised beds and after hours of shoveling dirt and transplanting plants from a box store he watched everything shrivel up and die in the brutal Texas sun. He knew there must be a better way to garden and grow food. On his birthday that year when Lee gave him an Aerogarden unit (counter-top hydroponics). Jeffrey inserted a seed pod, some pre-measured solution, flipped on the lights and a month later he was in love. Until he realized you really cant grow much in it, like a salad for two every 8 weeks… Then Jeff turned to Youtube for answers, 4,000 hours of videos later he knew Aquaponics was the future of urban greens and herbs production.
Within six months the Bednar's searched and found their dream property in exemplary Lovejoy school district in Lucas just one mile from their house. With 2.67 acres, 17,000sqft of dilapidated greenhouses, an 800sqft barndominium, and an overgrown peach orchard the Bednar family had plenty of room to grow. The previous owners were incredibly generous and agreed to help finance after Jeff and Lee after they shared that they wanted to convert the greenhouses to Aquaponics and change the world. The previous owners had built the greenhouses to supply Orchids to their since sold award winning Dallas flower shop.
After finding the property, Jeff promptly sold his 1/2 of a real estate investing companies and investing academy training programs to be a stay at home dad, upstart farmer, and educator. The first year was a emotionally trying; transitions to new schools, stress from downsizing from 3600sqft to 800sqft of living space, costly repairs to greenhouses, the loss of a family dog to a gate left open, loss of chickens to hawks and loss of 100's of fish in the learning process.
As of October 2015 the restoration of the smaller of the greenhouses was nearly complete and a "backyard aquaponics system" had been running for awhile. Jeff and one of his good friends and mentors, Jay Lamb, constructed two complete "Aquaponics pilot systems" in early 2016. These systems were designed to mimic the larger commercial system to be built. This pilot project was crucial for Profound Microfarms, learning how to deal with insect pests, extreme heat, hail, pumps, water-flow, testing levels and the Aquaponic ecosystem. There's a lot to learn about farming and living more sustainable.
With so many things in life, education is key. Jeff and Lee's vision in creating Profound Microfarms was to develop a platform to launch projects that make a positive impact in the world. They are committed to ongoing growth and development and are intensely interested in teaching kids (as well as adults) to be curious about their food and where it comes from. We Grow Gardeners.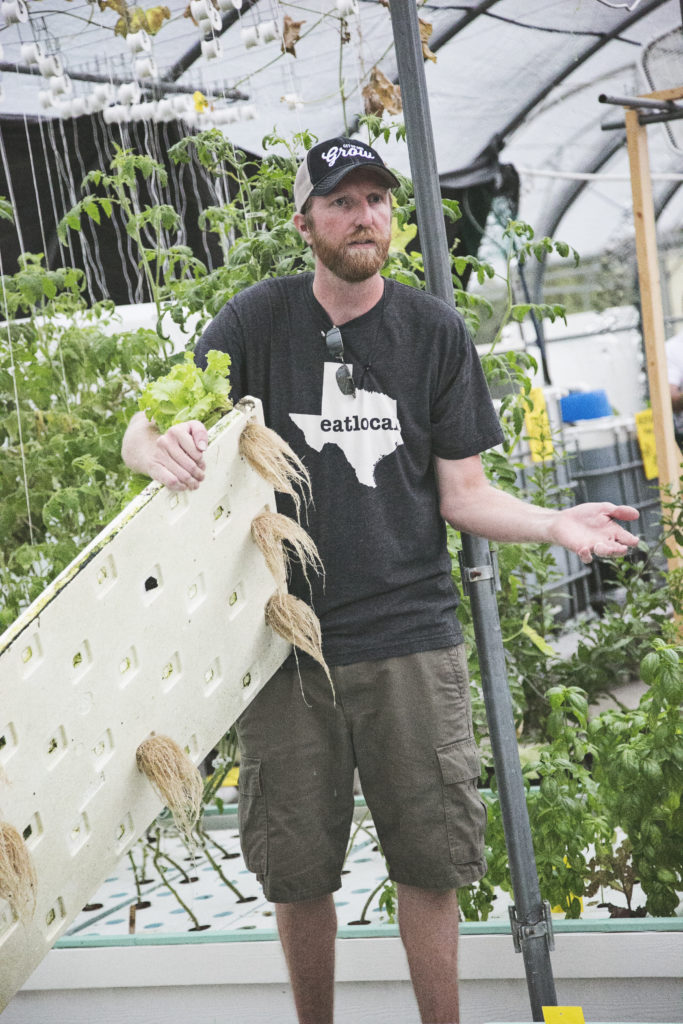 "Motivation is knowing you are learning, growing, and succeeding toward your desired outcome while sustaining positive momentum."— Jaren L. Davis